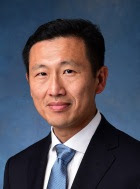 Following the extremely engaging Meet the Ambassadors Series Fireside Chat last month with Stephanie Syptak-Ramnath, Charge d'Affaires of the US Embassy in Singapore, our next Fireside will be about Singapore, its future, and therefore our future.
The Society is delighted to announce that our next Fireside Chat will be with Mr Ong Ye Kung, Singapore's Minister for Education (Higher Education and Skills) and Second Minister for Defence.
Minister Ong is widely seen as one of the core members of Singapore's and the PAP's fourth generation (or "4G") leaders. Some political analysts and publications, including the Straits Times and the South China Morning Post, have touted him to be one of the contenders to lead Singapore in the future. The SCMP in particular highlighted Minister Ong's long working relationship with PM Lee Hsien Loong, his "battle-hardened" nature from his experience of electoral defeat in his maiden political outing in the 2011 general election before bouncing back to be elected in 2015, and his unusual personal narrative given his father was a Barisan Sosialis MP in the 1960s in opposition to the PAP.
What does Singapore's future hold? What is the 4G leadership's vision for Singapore, and what are the roles that each leader is likely to play? On a personal level, how has Minister Ong's political experience and personal background – unusual among PAP MPs – shaped his approach to leadership and does that make him a better listener?
The Society's President has asked Minister Ong also to discuss the challenges Singapore faces in a no holds barred "State of the Nation" analysis. Come join us for an intriguing discussion at a Fireside Chat that is certain to be one of the highlights of the Society's year. Numbers will be strictly limited to 30 pax.
Please sign up via Peatix. Details below.
Date/Time: Tuesday, 7 November, 7.15 pm for 7.30pm
Venue: 2A Victoria Park Close, Singapore 266550
Tickets: $38 for members, $60 for guests (limited spaces – no refunds allowed)
Sign-up: http://oykfireside.peatix.com