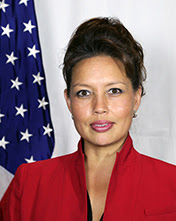 Dear Members,
Following the very well-attended AGM and Fireside Chat on "Artificial Intelligence and the search for eternal youth" with venture capitalist Dr Finian Tan, our next chat will focus on foreign and security policy in the Asia-Pacific.
Members who attended the Launch of our Meet the Ambassadors Series, a joint fireside chat in April featuring Singapore's Ambassador to Japan Lui Tuck Yew and Japan's Ambassador to Singapore Kenji Shinoda will recall that the US' role in the economic and security architecture of the Asia-Pacific was a hot topic for discussion. Five months later, with escalating tensions in the Korean Peninsula, as well as contested claims over the South China Sea questions have been raised of the US' role, if any, in the region. Notably, the Economist in its latest issue asks if Asia's American-led order is being ruined by "an American wrecking-ball". Even if, as some believe, there is no clear replacement for the US at the centre of security in the Asia-Pacific, American prestige in the region is suffering. What is the US' approach to the region, and has it changed? Does the Trump Administration even have a plan, and if so is the Asia-Pacific a priority?
Against this backdrop, we are pleased to have the opportunity to host Stephanie Syptak-Ramnath, Acting Ambassador at the US Embassy in Singapore, who will speak on "The role of the United States in the Asia-Pacific".
Join us for what is sure to be an exciting and engaging fireside chat. Dato Paul Supramaniam and Dr Melanie Chew will jointly moderate. Sign up via Peatix.
Venue: 6B Cluny Park, Singapore 259615
Date/Time: Friday, 29 September, 7pm (food and drink provided)
Tickets: $38 for members, $50 for guests (limited spaces)
Sign-up: http://syptakramnathfireside.peatix.com
About the speaker:

Stephanie Syptak-Ramnath, Chargé d'Affaires, ad interim at the U.S. Embassy in Singapore, is a career member of the Senior Foreign Service. Her most recent assignment prior to her appointment to Singapore was as Minister Counselor for Public Diplomacy at the U.S. Embassy in Mexico City, where she managed Public Diplomacy staff across 9 Consulates in implementing U.S. government public outreach efforts that covered the work of 29 USG agencies in Mexico.
Stephanie previously served as Deputy Chief of Mission in Bamako, Mali where she led a team of 300 interagency colleagues in shaping and implementing the U.S. government response to the political, security, and humanitarian crises in the country.
A specialist in the field of Public Diplomacy, Stephanie's other assignments include Senior Deputy Director in the Office of Public Diplomacy for the Bureau of European and Eurasian Affairs; Career Development Officer for mid-level Public Diplomacy officers, Public Affairs Officer in Mali; Assistant Public Affairs Officer in Tunisia; Staff Assistant and Political Officer at the U.S. Mission to the United Nations; and Vice-Consul in Monterrey, Mexico.
Stephanie was a member of the International Women's Forum Leadership Foundation 2011-2012 Fellows Class, a group of 35 rising women leaders from 14 different nations. As part of the program, she completed executive programs at both Harvard Business School and INSEAD's Singapore campus.
Prior to joining the Foreign Service, Stephanie was an officer in the U.S. Navy. A graduate of Georgetown University's School of Foreign Service, Stephanie is married and has two daughters. She speaks French, Spanish, and some Arabic. Her mother was a Singaporean who married a senior US Airforce officer and moved to the USA and her paternal grandfather was a US Air Force highly decorated pilot in WW2.