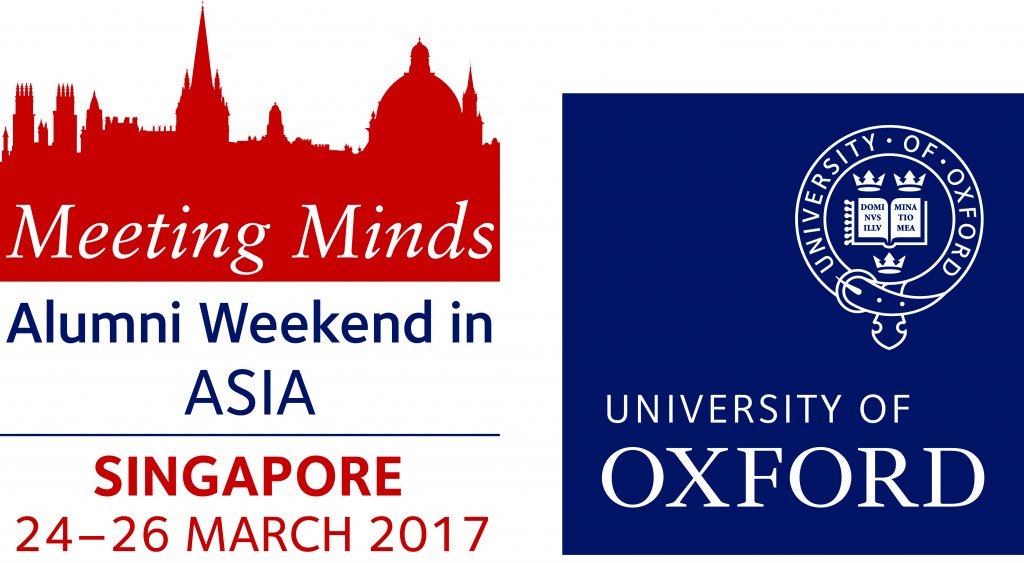 -
Book now at https://www.alumni.ox.ac.uk/events/meeting-minds-alumni-weekend-asia
Oxford University's Alumni Weekend in Asia will take place in Singapore 24-26 March 2017. Alumni and their guests are warmly invited to a range of social and academic events, including talks highlighting Oxford's latest research, a black tie gala dinner and brunch at the British High Commissioner's residence.
Below is an overview of the activities that will take place over the weekend. Click on the right hand banner to view each of the events.
FRIDAY 24 MARCH 2017

Alumni Dinners
Evening activities in locations around Singapore
More details about alumni dinners hosted by individual colleges and departments at https://www.alumni.ox.ac.uk/alumni-dinners
-
SATURDAY 25 MARCH 2017

Academic Programme
8.30am-5pm, Marina Bay Sands, Expo & Convention Centre, 10 Bayfront Ave, Singapore 018956
A full day of academic sessions and lunch, starting with an optional continental breakfast.
University Gala Reception and Dinner
7.30-11pm, Flower Field Hall, Flower Dome, Gardens by the Bay, 18 Marina Gardens Drive, Singapore 018953
Black tie dinner in the Flower Field Hall overlooking the Marina Bay skyline and the colourful displays of one of the largest glass greenhouses in the world. Guests are welcome to enjoy the Flower Dome before the start of the reception from 6.45pm.
-
SUNDAY 26 MARCH 2017

Brunch at the British High Commissioner's Residence
11am-1pm, Eden Hall, 28 Nassim Road Singapore 258403
Set in tropical gardens, Eden Hall was built in 1904 in the late Edwardian-classical Revival style and has been the Residence of the British High Commissioner since Singapore's Independence in 1965.
Comedies, Histories and Tragedies: An Exhibition of the First Folio
1-5pm, National Library of Singapore, 100 Victoria St, Singapore 188064
This is an opportunity to view first hand one of the Bodleian's two copies of William Shakespeare's First Folio. Admission is free.
The Row for Hope Oxford and Cambridge Alumni Boat Race
2.30-6pm, Passion Wave @ Marina Bay (Marina Barrage Channel)
The annual boat race in Singapore between Oxford and Cambridge alumni, organised in partnership with the National Cancer Centre Singapore (NCCS).
Click here to book now!